If you've never done a character chat, then you're missing out.
What is a character chat? It is when you and any number of other authors choose a character (or two, or three) each, throw them all into an imaginary place/situation, and watch how they all interact with characters written by other people in worlds not their own.
So for instance, if I was character chatting with one other person and we agreed to use only one character each, we'd each choose one of
our own characters
and hold a conversation
as our characters
. I'd speak as say, Nitri, and the other author would speak as her character. It's like a role-playing game.
Usually these things are done online via messaging systems such as Google+ Hangouts or Facebook Messaging, but I've also participated in a character chat done over Google Docs. Some chats are just conversations taking place in featureless rooms, some are set up in a specific location with a setting that the characters can interact with, some are life-and-death situations that the authors just dump their characters into. The possibilities are really limitless.
I got the original image from here.
Personally I think character chatting in one of the best ways to help flesh out your characters. Why?
You have to think about what speech patterns set your character apart from the others in the chat.
By just looking at the text, could you identify which character was your own by what he said?Also
sometimes the character's speech patterns come out naturally in the chat, which is incredibly helpful.
I was character chatting using Nitri the other night and realized that one of his favorite phrases was "I would have thought . . ." It was giving the other character in the chat (a very snarky charrie) way too many opportunities to make fun of Nitri's potential for intelligent thought.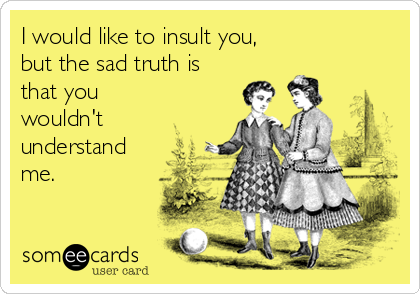 Basically, this is how Nitri got a smack-down. He wasn't very happy.
You see how your character reacts to insults.
Maybe it is just my characters but they often start off the chats by arguing with the others. If this happens, you get to see how your character uses insults, how much he can take before snapping, how he snaps, etc. This is also important because it forces us to think, "is this my character talking? Or is it me?" That distinction is very important and you're forced to think about it in a character chat.
Questions you wouldn't have thought of get asked.
Other people often have questions to ask your characters or about your characters that you never would have thought of. Some of these come out in character chats and get you thinking about how your character would answer. It's like a character interview, except you're forced to think fast and produce an answer.
The diversity between the characters can be staggering.
Different authors, different story lines, and different worlds all collide when you throw together a few character from totally different stories. This mix-up creates very interesting conversations and very interesting conflicts. Sometimes you have to better think through something in the world you've made up in order to have your character explain it to another who has never heard of it before. Also, you may end up with a court jester trying to hold a conversation with a over-protective dad. You never know what could happen, and watching your character squirm trying to figure out how to deal with the weirdness if not only informative, but incredibly entertaining.
Just watch the drama unfold from above and feel free to laugh.
You may end up with a new OTP.
This has happened. Authors stick their characters together and liking happens, totally unplanned. Sometimes this can be problematic, as they don't have their new soul mate in their world. But it can also give you an idea of how your character reacts in romantic situations, giving you more information to write with.
Basically, anything you want to know about a character, you can learn via a character chat.
Also, it is incredibly entertaining. Especially when insults start flying. If you've never done one, or need to know one of your characters better, find a friend or someone in a writer's group or any author at all and go set one up. It'll be fun!
Have you ever done a character chat? What do you like about them? How do you start them off? Personally I like to throw my character down from the sky like comets that don't burn. They often land quite awkwardly. *cue evil author laughter* But seriously, tell me about your character chatting experiences down in the comments.
Also, I apologize for any typos in this post. I was rather rushed while writing it.