Harry Potter,
Harry Potter.
Anakin Skywalker,
Star Wars
. Tris Prior,
Divergent
. Katniss Everdeen,
The Hunger Games
. Eragon,
The Inheritance Cycle.
The Pevensies,
The Chronicles of Narnia
. Every Protagonist Ever,
Warrior Cats.
All these main characters share something: each is somehow the only one in the entire world who can solve the war/galaxy/society/government, despite being a pretty average Joe. Oftentimes they are special because of a prophecy, but there are occasionally other reasons. But the underlying concept is always the same: this (sometimes only seemingly) average protagonist is the
only one
who can fix the overarching plot problem. Commonly, this gets called "the chosen one" cliche, and it can either go over really well or really, really badly.
Hahahaaaaa . . . not in Star Wars. But more on that later.
Many people get annoyed with this particular cliche. After all, why is
that
girl/boy, out of millions, the one who is special? Why couldn't anyone else just step in and beat up the big baddies, whoever they may be? Sometimes, these people are voicing valid questions - why
couldn't
someone else have been the "chosen one"? But other times, when the story is well done, there is a legitimate reason for the "chosen one" cliche. It all depends on the individual story.
Take
Harry Potter (
SPOILERS for
The Order of the Phoenix
and onwards ahead). In this series' case, the cliche was well used. Harry was "the chosen one" because of a prophecy which clearly was talking about him - but there was actually more to it that that. Harry really was the only one who could have finished off Voldemort, because: (1) he was the only parselmouth apart from Voldemort, thereby allowing him to stop Voldemort's return in book 2 and claim the sword of Gryffindor, (2) he was the only one able to sense the horcruxes and therefore find them, (3) he had the sword of Gryffindor because of point 1, which allowed him to actually destroy the horcruxes once he found them, (4) he had to die in order for Voldemort to be kill-able (although, why Voldemort had to do it himself I've never understood), and (5) he was the only one Voldemort couldn't kill in one shot. So, in the
Harry Potter
series's case, there were reasons apart from "because this prophecy said so" that Harry was "the chosen one." (SPOILER END.) Because of that, the use of the cliche worked and no one complained.
Basically Harry Potter.
Now, let's look at
Star Wars
(minor SPOILERS for Episodes I-III ahead). Anakin Skywalker is "the chosen one" in this case, as we are told in Episode I (a real disappointment of a movie, actually). We are told via the Jedi that the Chosen One is prophesied to bring balance to the force. Yes, another one of those pesky prophecies (maybe that's another cliche to talk about later?) - they always seem to be messing up people's lives, don't they? Any-hoo, while I adore Anakin and the ability of his character arc to make me cry, the whole "chosen one" thing was really quite unnecessary in my opinion, and therefore is just an annoying cliche instead of an actual plot device. Why? Well, in Episode I (bleagh) Qui-Gon Jin discovers Anakin's super-high midichlorian count, which makes him think Anakin is the Chosen One, thereby getting Qui-Gon to break a whole load of Jedi tradition to make Anakin a part of the Jedi Order. Because of Anakin's midichlorian count, we'd expect him to be
really
powerful in the force - like, maybe moving starships, or something. However, as far as powers go, Anakin seems to be just like every other Jedi.
So much for special.
Here is where the problems start. If we'd seen evidence that the prophecy
meant
something, and that Anakin truly was special because he was super-powerful, then we would have had evidence that Anakin was worthy of being "the chosen one," subject of a prophecy. As it is, the prophecy is expected to create its own importance . . . which in my opinion, wasn't very successfully done. Next comes problem two: because Anakin
doesn't
appear to be special, the prophecy doesn't seem to play any part in the
entire rest of the series
, and "the chosen one" thing isn't really mentioned after Episode I,
the only reason for the entire "chosen one + prophecy" set-up in the first place was to get Anakin inducted into the Jedi Order.
Which is a
really
bad excuse to use a cliche,
especially
if you aren't going to back up "the chosen one's" chosen-ness with actual tangible evidence or utilize the prophecy and/or chosen one thing much at all in the rest of the movies. (SPOILER END.)
Except for that one time when Obi seemed to remember it.
It didn't stop me from crying over Episode III, but still. Poorly done, Lucas. The prequel trilogy would have been much better if Anakin had been unusually powerful. And look, most
Star Wars
fans don't even like the prequel trilogy, or at least Episodes I-II. I wonder why.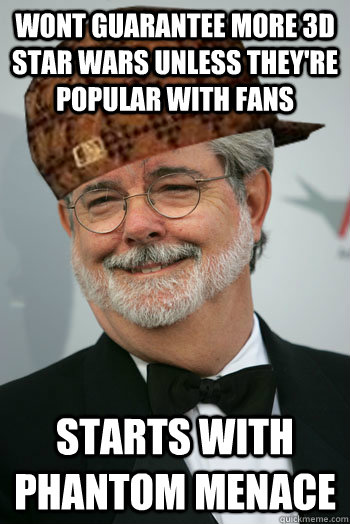 That was a mistake no fan would have made.
Another poorly done "chosen one" cliche was in
Divergent
. Tris is never named a "chosen one," per se. However, she is supposedly special (SPOILERS ahead) because she is Divergent.
However
, she wasn't the only Divergent! There were hundreds of them. Roth's main problem with this was how she set up her world. How had so many Divergents gone under the radar if they were being hunted? Why is the majority of the population so limited in admirable traits? Why was Tris the only Divergent who took action? (SPOILERS end.) All these questions caused the idea of Tris's special-ness to fade, and had readers doing a little bit of head-scratching.
So, don't use "the chosen one" cliche unless:
You'll use it as a plot device more than once.
There is a reason apart from prophecy that this character deserves to be labeled special.
The character takes actions or possesses abilities no one else can manage.
There is literally no one else in society who also shares the character's specialness.
The Chosen One can be done really well and used to create a really fantastic story (look at the sheer success of Harry Potter!), but you need to make sure you're not just using it as an easy excuse to propel the plot forward or as a cheap way to set your protagonist apart from others.
What do you think? Do you agree with my assessments of Harry Potter, Star Wars, and Divergent? Do you think that this cliche shouldn't be used at all, ever? If you don't, when do YOU think it SHOULD be used? I'm interested in what your guys' opinions on this are, guys!
Want more posts on cliches and how to put a twist on them? Click
here
for all my posts on cliches, or click the label in the sidebar.