I read a whopping total of
ONE
novel this week. I know, aren't you all so proud of me? Honestly it's been a writing week - I never can seem to strike a balance between reading and writing, and I have to prep for July's Camp NaNoWriMo anyway. This all means that this post is pretty short. Maybe you're all relieved about that. xD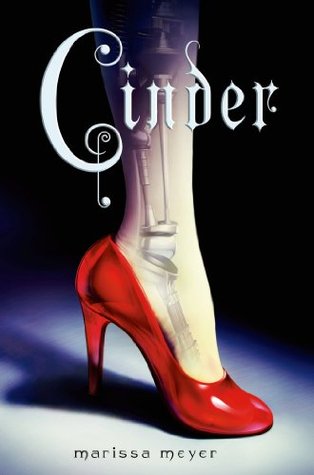 I'll admit I wasn't hooked at first. Maybe it was all that writing I was talking about, but I started reading and then left it sitting in my bag for five days plus. Then I picked it up again . . . and couldn't put it down.
I
loved
Cinder as the protagonist. She was tough, but some of it was a front to protect her softer side, and that was fantastic to see (especially in a female protagonist). Plus I liked that her cyborg parts didn't give her super-strength or anything, which some books have. It made her feel more normal, and therefore more victimized, and then ultimately more sympathetic.
Plus, Levana made a fantastic villain. I look forward to watching the conflict develop in the rest of the series, and see what she has up her sleeve.
Kai was also a very lovable character, burdened with all sorts of feelings and duties. He was a great, multi-dimensional hero. For some reason I picture him looking like Price Eric from Disney's
The Little Mermaid
, and unlike that guy he had some intelligence to him and wasn't
quite
as obvious about which girl he liked. But he was still
very
adorable with how he treated Cinder.
I loved the climax and really enjoyed reading this book (once I'd picked it up to resume it!). I have what feels like a thousand other books to read, but I'll be trying to get the sequel to this one specifically.
Cinder and the rest of it's series seem to be pretty popular - how many of you have read it already? Am I really late to the party? If you're late like me, is this book on your to-read list, or does a sci-fi Cinderella not sound like your thing?